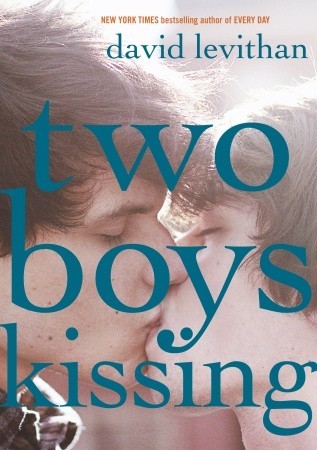 Two Boys Kissing
By: David Levithan
Released: August 27, 2013 by Knopf Books for Young Readers
Length: 208 Pages
Genre: Young Adult-GLBT
Rating: Four Stars
Acquired: Purchased
The Greek Chorus has returned in the form of long passed away Gay men with AIDs watching over a couple that has been together for over a year, a pair of exes who want to beat the Guinness Book of World Records for kissing, a new couple, and a single boy who feels he doesn't fit in in the world. 
Two Boys Kissing is perhaps David Levithan at his best stylistically. The writing was beautiful from the beginning to end. I loved the narration he chose. I don't think he could have done it any other way. It was engaging, entertaining, and completely heartfelt. He talks about the AIDs crisis in such a honest way, but it never took away from all the other boys. The boys, the boys were great. Every single one of them. You felt for them. Could understand them as much as you could. There was such a rawness and tenderness with each one.
I really liked this one by Levithan, but, truthfully it was not one of my favorites. I loved the writing style which is perhaps one of my favorites of his. Although it only works in this book. This book was relatively short and I expected to read it in a day, but it didn't hold my attention well enough. I found myself not truly wanting to pick it up. When I did, I enjoyed it. Mostly the writing style. The topic was great, but I unfortunately couldn't relate to it. I didn't think it would be a big deal. It wasn't that big of a deal if you see I still gave it four stars, but it did stop me at five stars. I was able to get into it more towards the end, but I think maybe because I just liked the thoughts of the chorus and wanted to finish this.
I would still highly recommend this book. I think the writing style/technique used was perhaps the best I've seen in a long time. It kept me interested; and, it was something unique enough that worked. The individual stories were interesting, especially the exes. They were my favorite. There were some good quotes to be had, especially at the end. It's a book not to missed, I think.