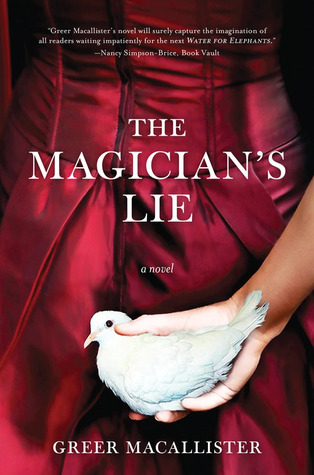 The Magician's Lie
By: Greer Macallister
Released: January 13, 2015 by Sourcebooks
Length: 320 pages
Rating: Two Stars
Acquired: BEA
A murder has occurred at the end of the Magician's show. What seems to be her husband, who is the dead man, really; and, did the Magician kill him?
First off, my big complaint is SHE IS AN ILLUSIONIST!!!! She is not a magician. She doesn't exactly do magic tricks. She clearly does illusions. Boy, was she fascinating. But, again just like with The Garden of Letters, I found myself often more bored and filled with meh then excited and eager for more. The premise sounded great, the plot twist was a five out of ten, and I really wish the author would have stopped switching between calling Arden a magician and illusionist when she was clearly the latter.
The novel was perfectly fine, just boring to be honest. Half the novel is set where The Amazing Arden is being questioned by a sheriff in a town with only one cop. The interrogation is rather erotic, to be honest. There is heavy flirtation with some sexual innuendos. It was told in present time whereas the second narrative was told from the past up to close to current time based on Arden's beginnings. I liked that part the most, as it had more details about the life of an illusionist.
The Amazing Arden was certainly amazing. She was a great character. The only reason why I am giving this book two stars. She is so amazing she can heal herself. Her foe/childhood-adult abuser thinks he has the power but that's another issue. I think that's an interesting twist to add to Arden's character. I liked that element to her. Unfortunately, everyone who knows of her ability wants a piece of her ability. Nuh huh, you can't have it!
Overall, this is another book I wouldn't recommend. It wasn't necessarily bad. It just wasn't very good or fulfilling. The elements that I seek in a book were lacking in this one. I would say, if you were to pick this one up, proceed with caution.