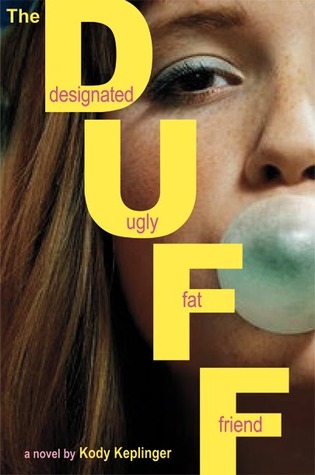 The DUFF: Designated Ugly Fat Friend
By: Kody Keplinger
Released: 2010 by Little, Brown
Length: 280 Pages
Rating: Two Stars
Acquired: via netgalley
What happens when the school's Male slut calls you your friend's DUFF? A drink gets thrown in his face? Check. You sleep with him? Wait, what? This is a book where the main character makes some really bad choices
While at a teen night club, High School Senior Bianca Piper is approached by the attractive, sleazy, no good Wesley Rush. During their brief interaction, she is called the DUFF, a drink is spilled, and Bianca's life is forever changed. What soon follows is a few months of bad, bad choices. The first…sleeping with Wesley Rush to "escape" her problems. Her mother is never home. She believes the DUFF label. Her Dad is becoming an alcoholic again. So, to Wesley it is. Then, the lying to her best friends happen. The ditching them comes next. Followed by a few spoilers I will not reveal. She's a mess. And a character I could not get behind. There was no liking her. No feeling sorry for her. Nothing. I know that sounds bad, but she was a really hard character to like. She cursed A LOT. Did a lot of bad things and complained about it afterwards. Didn't care that she used a human being. She was awful.
Many bad things happened to Bianca. Her parents were about to get a divorce that her mother suddenly sprung. Her dad relapsed after seventeen years of being sober. She realized some stuff about herself. But, in no way does that justify her behavior, selfishness, and attitude towards Wesley. I was team Wesley all the way. Now his life sucked. He basically lived alone. Was pretty much banned from seeing his sister. And his grandma, with whom his sister lived with, hated him. And, yet, he wasn't acting sorry for himself. Yes, he was sleeping with everyone, but still. I really liked him as a character and oh man, the end! The end was amazing! That's the only reason this book got two stars and it's all because of him. Totally team Wesley.
Although I gave this book two stars, I would surprisingly recommend it just for the ending. It's worth the struggle. I read this book in a day. Less than that. I couldn't stop reading the train wreck. It's one of those books you love to hate I think. I love to hate this book.