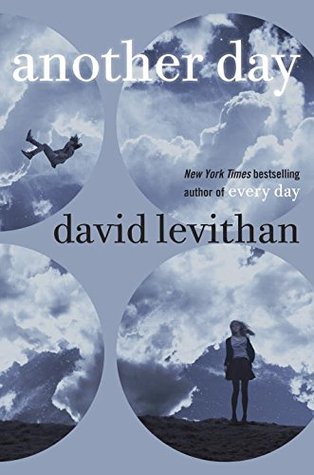 Another Day (Every Day #2)
By: David Levithan
Released:  August 25th 2015 by Alfred A. Knopf Books for Young Readers
Length: 327 pages
Rating: Five Stars
Acquired: BEA 2015/ netgalley
"Maybe this is what we've needed all along. Distance from everything else, and closeness to each other."
In David Levithan's companion novel to best seller Every Day, Another Day takes the readers on Rhiannon's journey of navigating love, both new and old from a fresh perspective. Unlike companion novels, such as Just One Year by Gayle Forman, this work is a somewhat retelling of Every Day instead of a what happened next novel from the opposite perspective. It is  as every bit creative and insightful as Levithan's previous works, especially Every Day.
The reader really gets the opportunity to be inside Rhiannon's head and life. Trying to adjust to these budding feelings for A, an extraordinarily unique human being, Rhiannon also has to deal with the complications of her current relationship with her distant, troubled boyfriend, Justin. There is a great scene between Rhiannon and her best friend where the best friend discusses Rhiannon's relationship with Justin in an honest way. It's not often people are completely up front about certain feelings regarding other friends' relationships. It was refreshing to read that. I did shout, "You go girl,"  because while powerful, a little mean, but true, her message translates universally. Something Levithan specializes in.
The good thing about Another Day, and Every Day, is you can start with either one, I think. It is clear what the condition is that A has as much as it can be, in both novels. You are told in two ways–once per novel– who, what A is; so if you do decide to start with Rhiannon's story, you won't be totally clueless. You'll have some idea, just not in the full capacity of how A himself explains it in his narrative.
It's no secret that I am a huge David Levithan fan; having read a majority of his published works. This may be one of his better novels. The series is, quite frankly. It is inventive, thought provoking, and something we need to see more in YA, or literature in general. I loved how Levithan's character A has no gender. It's not that he doesn't see gender, he really has none because he changes bodies constantly. How this translates into Rhiannon's views and acceptance of such a condition is flawless. There is an apparent struggle with accepting A as A–a boy or a girl on any given day. It wouldn't be close to realistic if she didn't have a problem, or hesitancy regarding A's various identities.
Part fantasy/ sci-fi, this novel can also be categorized as realistic, teen fiction. The concept of A may be unusual, but everything else is real. The struggles, the successes, and the love. I can't recommend this book, and series, enough. Both characters tell interesting stories. Stories you don't won't to miss out on reading.
I loved this novel. It would make a great standalone. The end. The end! Once again, Levithan pulls us in with a cliff hanger of sorts that leaves readers like myself wanting more. If you haven't read Every Day, you won't know how the end leaves off. But, it's a good one. However, it doesn't continue over to the second book. I think Levithan is writing a third, from what he told me at a signing. This will, hopefully, tie in the two cliff hanger endings.
This series should not be missed. The  way Levithan tackles topics it explores, such as gender identity, abusive relationships, and first and second loves, is a great start to better understanding these on your own. I can see either, hopefully both though, books being taught in High School. The tackled topics are so important, universal, and important to learn. Especially when it comes to understanding gender, gender norms, and gender constraints. Another Day tackles these topics a little more heavily than in Every Day because it is about someone who has an assigned, accepted gender that may fall for a person who has none, while both at the same time. Things can get messy!
Please, just read this. You won't regret it, I promise.