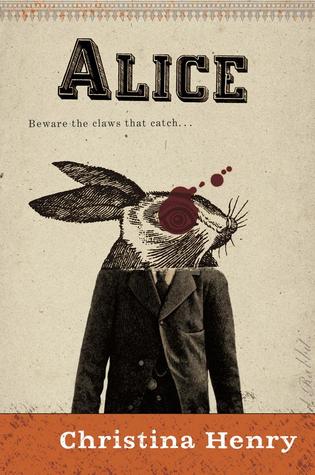 Alice
By: Christina Henry
Released: August, 2015 published by Ace
Genre: Fantasy/Sci-fi/Horror
Length: 291 pages
Rating: Five Stars
Acquired: purchased
"You're only a mouse if you let them make you one."
Christina Henry's Alice is not your average retelling of Lewis Carroll's Alice in Wonderland. Alice is a patient at an institution in the "old city" of this alternate universe. The old city is full of nothing but mob bosses, felons, and the struggling people. The New City is where the rich live. The people who lived in a peaceful society protected by Ministers. Once a citizen of that part of society, Alice is now trapped. Trapped with a large scar on her cheek and no memory of events that led her to here. As it turns out, the rabbit marked her. Marked her as his own after she took his eye out. But, how did she meet this Rabbit? And, who exactly is he?
With returning favorites like the Rabbit, Caterpillar, Jabberwocky, and Walrus, you are also introduced to Hatcher. A killer with a penchant for axes, he is Alice's "cellmate" next door. Attached to the Jabberwocky, Hatcher is an interesting character. He has no problem killing. In fact, I think he might get off on it. Alice, on the other hand, is thankfully appalled. Their chemistry is undeniable, though. Even from the start as they communicated through a mouse hole. I really loved them together. They were completely different, but worked in such a powerful way. The last page of the book is fantastic. The way the words form on the page is great.
Henry has a fresh voice not to be missed or overlooked. This is one of those stories that can stand alone from the Alice in Wonderland world. I think that's what I liked best about it. This wasn't your average retelling. It didn't retell the story with just one or two elements changed. Oh, no. It was completely reimagined.  Yes, some of our favorite characters return, but they return in a completely unique way. No longer do they stand for what they once did.
This new world was not Wonderland. Nor, was it mentioned really at all. I think I liked that a lot. It was a refreshing read. After reading a previous retelling I wasn't too fond of, this made me love the world Carroll created even more. I can't wait for the sequel, Red Queen. I am hooked on Henry's writing. It is powerful, shocking, and terrifically horrific. Considered fantasy/ Sci-fi for there are magicians and this alternate universe, it reads more like a light horror book with thrills added in. I can't recommend this enough for fans of Alice in Wonderland. Even fans of horror, fantasy, and Sci-fi.
I know I am constantly saying read this. Read that. But, really, read this! You won't regret it in the least. Borrow it or buy it; this is a book not to be missed. I wish I read it sooner. But, then again now I have a shorter wait to reading the sequel.
Happy reading!
-Indie