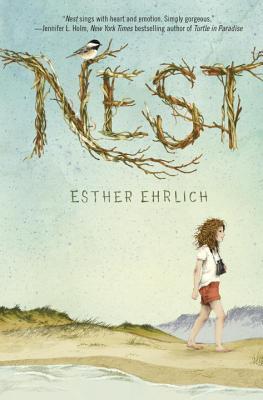 Nest
By: Esther Ehrlich
Released: September 9th, 2014 by Wendy Lamb Books
Length: 336 Pages
Genre: Middle Grade
Rating: Two Stars
Acquired: via publisher
What lengths would you go to make your life stay the same? How would you feel if the person you love most in the world stops smiling?
For eleven year old Naomi "Chirp" Orenstein, her mother is everything to her. When her dancer mother gets a devastating diagnosis that stops her from dancing and smiling, Chirp doesn't know what to do. Soon after, her mother spirals into a depression. Nest tells Chirp's sometimes heartbreaking journey as she trudges through life during this time with adventure, escape, and self-discovery. It isn't all bad, but it isn't all good, either.
This novel deals with some very adult issues at the heart of this middle grade novel. The character may be a middle schooler, may behave like one, but the situations are anything but. I had a slight problem with that. I usually don't read middle grade novels, so I am not sure if this is an usual occurrence. But, may did it take an adult turn. Too adult, I would say. It made me very uncomfortable reading it. As it is a spoiler, I am not at liberty to reveal it, but it made me dislike the book. I loved Chirp. She developed a nice relationship with the boy next. They had a cute conversation towards the end of the novel that I loved.  However, this was not enough to give this novel a better rating. What took place towards the later middle/end was too heavy for me. Not heavy for me as an adult, but heavy as me reading a middle grade novel. It isn't something that I personally believe should take place for this age group. I don't think they can handle it, grasp it, and it takes away from the rest of the novel because of that.
It was a big shocker for me. If this was a Young Adult novel, I don't think the event, if you can call it that, that occurred, would have taken me so off guard, but since this is for a younger audience it did. I don't think it needed to happen to get the author's point across. Yes, what happened completely at the end was a great character development exercise, but could have been reached without what took place because of it.
Although I did not find this novel extremely heartwarming, I definitely can see where a reader can. This is, at its core, a middle grade novel, but too much of it is adult for me. But, if there wasn't that one thing, this would have been a great debut for me. Like I mention before, the characters were great. The plot, for the majority of it, was pretty decent. It evoked the right emotions. It showed how powerful friendships could be. It was poignant, honest, and positive.
I am torn on recommending this book. There were some great positives about this book. But, the negatives were so negative. I really feel strongly about what took place that makes it too inappropriate for its age group. I can't seem to get past that. But, at the end, it was uplifting. There was a positive message. I would say, look at the back. Think about it. It's heavy. It's mostly about mental illness; and, the affects it has on our loved ones. If that's hard for you, I'd say pass. It gets emotional, just so you know.
Happy reading!