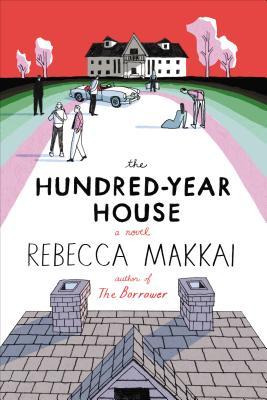 The Hundred-Year House
By: Rebecca Makkai
Released: July 10th, 2014 by Viking Adult
Length: 352 Pages
Genre: Fiction
Rating: Two Stars
Acquired: via publisher
Makkai tells an original family saga in reverse in The Hundred Year House. From family suicide to mysterious deaths, and an old artist colony filled with secrets, The Hundred Year House doesn't disappoint with the amount of secrets. In this family comes first drama, you learn what it means to be a Devohr.
There was plenty to take in, in this novel. There were the general plot lines of the characters: Doug and his struggle to write his book while hiding the fact that he's become a ghost writer for a popular teen series that is a little embarrassing; there's his wife, Zee who is doing her best to secure a spot for "jobless" Doug, by implicating a fellow professor for stuff he isn't doing. Then there is the couple living with them that are slightly minor. Plus, there's Gracie, the mom, who is blocking Doug from finding out about certain things that happened in the artist colony.
This novel was intriguing, while a little lackluster for me. I found myself reading it days in between. It didn't hold my attention as well as I had hoped it would. Although, it did get better in the end. The beginning was slow. Would this be a book I would recommend, no I don't think so. It took too long for me to feel invested. The characters weren't my favorite. The plot was a little interesting, though. I liked the ghost haunting the house, but that was not a sub plot that was fully developed, unfortunately.