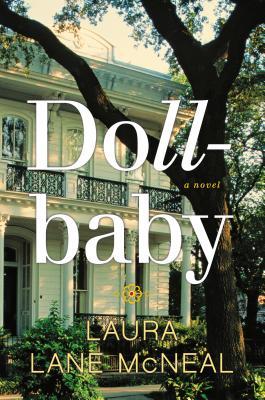 Dollbaby
By: Laura Lane McNeal
Released: July 3rd, 2014 by Pamela Dorman Books
Length: 352 Pages
Genre: Historical Fiction- 1960s Southern Fiction
Rating: Four Stars
Acquired: via publisher
After the sudden death of Liberty "Ibby" Bell's father when she is around 11, her mother drops her off to stay with her grandmother she never knew. To a house full of secrets and wonderment. There she meets Dollbaby and Queenie, the two women that know how to keep the house running and take care of Fannie, the grandmother. But, they two have secrets meant for keeping.  
Taking place in the 1960's during the civil rights movement in New Orleans, Dollbaby offers a fun take on a historical fiction novel. Both Dollbaby and Queenie have sass beyond belief. Ibby isn't lacking any herself. Fannie is a delight, yet a little crazy and eccentric. The plot takes place in three parts, separated by four years each. The first part when Ibby is young, the second when she is in High School, and the last and shortest, when she is in college. Each section offers an authentic look at the civil rights movement and what it was like for a white person to have a black friend. Ibby's best friend was Dollbaby's daughter.
I loved this book. I feel the author did a fantastic job analyzing the civil rights movement during that period. She crafted fun, complex, intriguing characters full of life. There was so much to like and enjoy. Then, there were the secrets. My, was I not prepared for what I kept learning. Especially the reveal at the end. There is a tie in reveal that had me shocked for days. Days! Even thinking about it now, I'm back to being shocked. It's major. Not just OMG major, but major to the characters and plot line. You just can't believe it happened; and a little you can't believe the author wrote it in. It's that shattering. That big. I don't know in a good way. It's just big.
There is something about this book that will keep you wanting more. It's one of those pieces of literature that is so good and fulfilling that at the end you want an unnecessary sequel just so you can read more. There's no point. No real plot thatcan be continued, but I want it. I will definitely try to read more by this author. She really hooked me in. I hope you will check this novel out. Believe me, you won't be disappointed. It's a little similar to The Help, but really only because there is "the help" featured. I find it can stand on its on far better. Just give it a go.