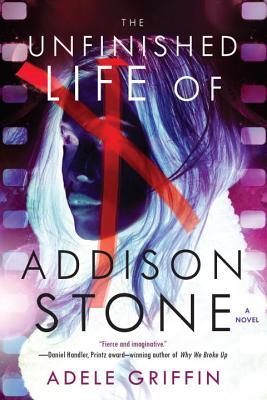 The Unfinished Life of Addison Stone
By: Adele Griffin
Released: August 12th, 2014 by Soho Teen
Length: 256 Pages
Genre: Young Adult Mystery
Rating: 3 and a half stars
Acquired: via publisher
Ida, Ida, Ida. Just call me Ida. I don't even need a last name, although it's Grimes if you really want to know. Some say I am part of Addison's mind. I caused  her to go crazy; to try to get her to kill herself the first time with those darn pills and razor blades. I just wanted her to paint my picture. I just wanted her to know who I was. Ida, Ida, Ida. I'm Ida. I'm real! I am, I tell ya. That girl, that girl's not trouble. She has talent. Real talent. Gone too soon. Maybe she was too talented. Saw too much. Felt too much. It wasn't the Z she took, those drugs for her condition. Could it be those boys? It was the talent! It swallowed her whole, it did. I saw it all.  Well, kind of. But, let's just say I did, for goodness sake.
That reporter, or teacher trying to be a reporter, Adele Griffin did a good job trying to tell my Addison's story; although she wasn't so kind to me. Treating me like a psychotic episode. Do I have to say I'm real again? But that Griffin woman, she tried to capture my Addy. The beauty, the darkness, the raw, brilliant talent that girl had. Griffin held intriguing interviews with those close to her, including her best friend Lucy, and those troublesome boys Zach Frat and Lincoln Reed. Did they kill her? There was such darkness inside of  her.  Such pain and illness. Not just me, me, me. I was her guardian angel. I tried to protect her. This Griffin woman didn't write that, how I tried to save her. Lucy tried to deface me. The Z can't stop me from existing!
This is a compelling narrative for anyone who wants to know about Addison Stone; the artistic life, the dark life, and everything in between. I highly recommend this. If not for the words, for the art by Addison Stone and photographs of Addy and friends.  It's worth a look over. I'm Ida, you can trust me.