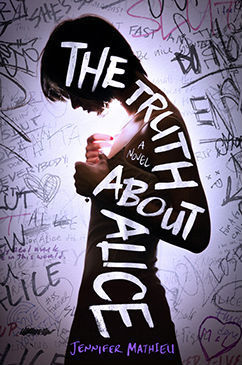 The Truth About Alice
By: Jennifer Mathieu
Released: June 3rd, 2014 by Roaring Brook Press
Length: 199 pages
Genre: YA Realistic Fiction– bullying
Rating: Four Stars
Acquired: via netgalley
Alice Franklin was one of the popular girls. She wore pencil skirts and fitted tops. She was pretty without trying very hard. She was wanted. That's what got her in trouble. It started at a party, where it always starts. Alice "has sex with two boys in one night" according to one of the recipients who texts his best friend. That slut. If it was just sex, she'd be a slut. But, weeks later the boy with the loud keyboard dies while sexting Alice in a car crash. Now, not only is she a slut, she is a slut who kills the superstar quarterback because she can't keep it in her pants. How could she! The Truth About  Alice isn't her story, but the story of four people who think they know the truth; only one is right.
Alice doesn't get to defend herself in this unique take on he said/ she said. Told in alternating voices of the girl who threw the party, Alice's then best friend, the best friend of said dead guy, and a guy who wasn't there but may know something, this novel gives us a look at what bullying is really like. Each voice is different. The party thrower focuses more on herself rather than Alice. The best friend throws Alice completely under the bus because she doesn't want to be a loner like she was at her old school again. The best friend of dead guy is just idiotic, and the shy, wasn't even there guy, is the only great character; also, with the only narrative that has Alice speak albeit briefly and in little sentences.
You might not believe me, but I loved this book. Really loved this book. I thought Mathieu did an excellent job writing about High School bullying; and, how hurtful rumors can be. Alice is not the only person who has been slut shamed, whether or not the rumor was true. She went from looking pretty, being herself, to wearing pants and a hoodie zipped up, hiding her head. This isn't a rare thing, unfortunately; and, Mathieu captured it masterfully. The reader is taken through the whole journey of the development of the rumor to discovering the truth. It's a heart breaking story, with only a small happy ending.
Although I am well out of High School, and the politics of it, I can see this book as still being relevant. Kids are still cruel. People are being bullied all the time. I think this is a perfect novel to be taught in schools.  See, kids, this is what happens. Do you want to be such and such? Do you see what he/she is doing to Alice? Having Alice not speak in this novel, although it sounds like it wouldn't work nor be beneficial in teaching a lesson, it does the opposite. Here's how: you meet Kurt. Kurt is not popular, a total nerd, and the only one who befriends Alice. Yes, he had a crush on her, but his narrative becomes so much more. It brings reality to all the other nonsense you read from the other three people.
At first, I was apprehensive when I found out Alice never gets a chance to defend herself against these rumors, but as I continued reading, I understood why. If you choose to read this book (please do!) you'll get it, too. Sometimes, these rumors have nothing to do with the victim. They just happen to be with the target. You need to understand the person who is the bully. It completely works. You don't feel sorry for these people, I sure didn't, but you get it. You understand where rumors start, develop, and take off full force. This approach is certainly a risk, it may not work in fiction all the time, but Mathieu did it well.
I highly recommend this book. I read it in one sitting; it's that good. You just want to find out the truth. You know one of them knows, but which one. You will be surprised at who and why. There are three good plot twists that I enjoyed. Little zingers I didn't see coming. The end was also very good. I loved it. I hope you read it. It's a book not to be missed, in my opinion. Plus, if you know someone in High School, or are in High School yourself, this will be a great novel for you, I promise!