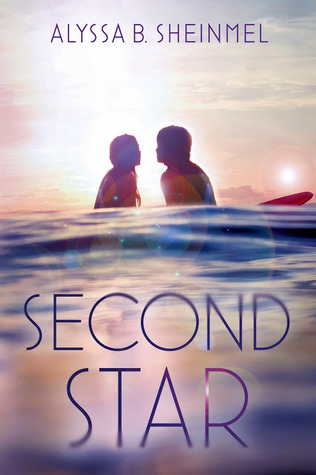 Second Star
By: Alyssa B. Sheinmel
Released: May 13th, 2014 by Farrar, Strauss, and Giroux
Length: 248 Pages
Genre: YA Contemporary/ Classics Retelling- Peter Pan
Rating: Four Stars
Acquired: via Netgalley
 There is a world, there is a place called Kensington Beach where the tide is just right, the people are friendly, and there's no one quite like Peter. If you are lucky enough to meet him, you might just find yourself at Kensington Beach. But, lookout for the hot, mysterious Jas, dealer of the drug Fairy Dust. He might just get you hooked. And, if your name is Wendy Darling, you're in for a lot of trouble.

 From Alyssa B. Sheinmel comes an unique take on the classic, Peter Pan by J.M. Barrie. Gone is Neverland, replaced with Kensington place and lots of surfing. The lost boys and girls are still there, of course, living in an abandoned house where they steal from the rich to get by. Tinker Belle is now the spunky and tough Belle, the on and off again girlfriend of Peter. Let's just say Wendy is different, too. She's now just a teenaged girl mourning the loss of her twin brothers who ran away from home and are subsequently dead. She is in major denial. So much so, she decides to search for them, landing at Kensington Beach, right into Peter's arms; the enigmatic, charismatic, and attractive Peter that she can't seem to take her eyes off of. She decides to couch surf there, as someone there must know where her brothers are. And, someone does. But, she's not speaking. Can Wendy find out the truth? Will she ever know what really happened to her brothers and come to terms with their deaths?
I loved this book. I read it in two sittings, I could barely put it down. Although I enjoyed the original tale, I found myself captivated with this one. It was just so different. There is something that happens towards the end that I won't spoil, but is a biggie in terms of plot, that would never happen in the original; and, I loved it. It completely worked. Both the situation and the kind of conclusion of said situation. It was perfect. I liked how it's Wendy's story. Peter's not in it all that much. It is mostly about her struggles with herself; which I could relate to. It was, in a way, a very relatable story if you take out the imaginary beach.
There was so much growth and character development in this story. It wasn't so much plot driven as it was to show Wendy growing. To show her first as a girl so deep in mourning she will agree to anything and think anything is possible to a much stronger person. The plot was nicely structured, as well. It flowed nicely, even with a thrown in love triangle with a drug dealer and Peter. I normally don't like love triangle, but this one was small, and I feel necessary to the plot.
I was apprehensive at first to read this book. I read a lot of negative reviews. I'm so glad i read this. I absolutely loved it. I hope you will, too. It's a quick read; a great summer beach read. Very enjoyable. I hope you check it out.