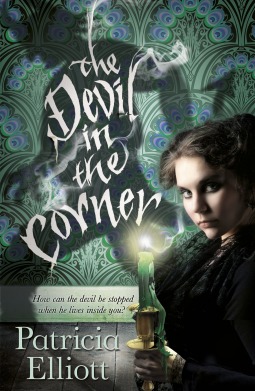 The Devil in the Corner
By: Patricia Elliott
Released: March, 2014 by Hachette's Children's Books
Length: 400 Pages
Genre: Young Adult– Gothic/ Historical Fiction
Rating: 3 and a half Stars
Acquired: via netgalley
 After a terrible run as a governess, poor, orphaned Maud Greenwood can't keep the nightmares away without some Laudanum at night. When she moves in with her cousin by marriage, Miss Juliana Greenwood,  her need begins to take over. Then, there is issues with her cousin; all is not what it seems. She is needy, persistent, and sees her as an unpaid nurse rather than family and a companion. Suddenly, as an event shakes the town, the "Devil" begins to take over. Part love story, part Victorian Gothic story, The Devil in the Corner is engaging and enthralling. Has the Devil really come?
The Devil in the Corner is a compelling story told by two narrators, Maud, and John Shawcross, her love interest who is a local artist set to restore the Doom painting in the local Church. Their love story often gets in the way of what really is happening; the relationship between Maud and Juliana, Maud's Laudanum addiction, the visions she sees and imagines, the rumors and accusations brought forth against her. Although John offered a different perspective, full of love and want for Maud, his story was one that could be expendable in this 400 page novel. It was what happened to Maud that was the most interesting.
In this novel, there is an underlining theme of good and bad; with the "Devil" appearing later on. The painting John has to restore is of the Judgment which later becomes one of the central themes in the novel. In the begin, Maud keeps thinking she sees shadows and that someone is following her, thus assigning this to the Devil. She also believes she has heavily sinned, as she tries to tell John who does not believe in any religion. He believes in Darwinism. Which also becomes a conversation piece, however brief.Then an event happens that shakes the town and its beliefs. I won't say what happens because, spoilers, but it's big.
I liked how Elliott approached the idea of divinity and good and evil. The symbolism was strong. The way she used the Devil throughout her novel was really good. She didn't throw it in the reader's face. She approached it slowly, then sped things up at a nice, progressive pace. The plot twist was great. I enjoyed it immensely. It was unexpected, new, and kept me engaged. The chapters were often short, and left me wanting more. I rather breezed through this relatively long book that did not feel like 400 pages long. I really lost myself in the characters and plot. Juliana was the right amount of bad and needy. Maud was the right amount of scarred.
I would definitely recommend this book. It was an enjoyable read that I didn't put down often. The Gothic aspect was very well written. The only issue I had was the love story which can be easily bypassed. It's not that it's cheesy, it's just that it should take third chair to all the action that Maud sees. I hope you give this book a look over. Don't be thrown by the pages, it's shorter than it seems.